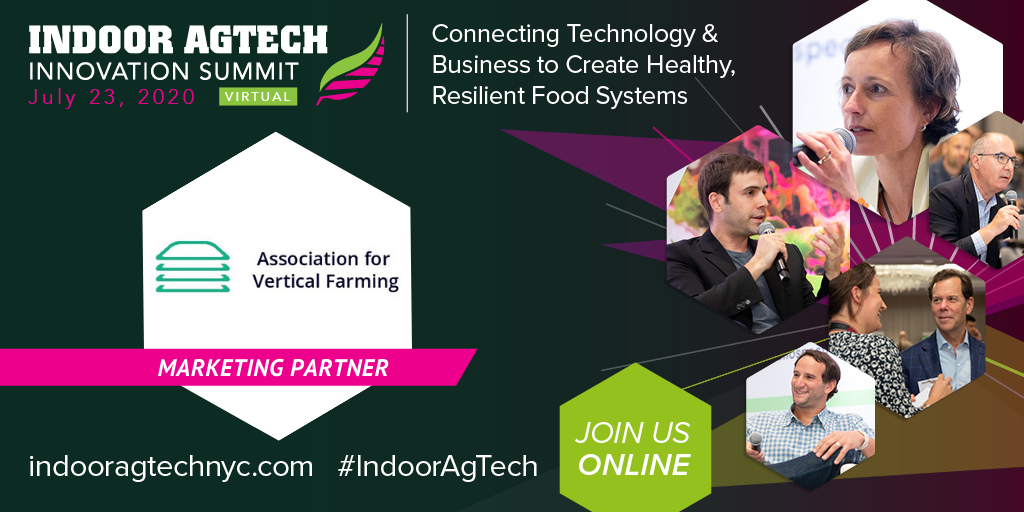 AVF is partnering with rethink on the
INDOOR AGTECH Innovation Summit
virtual on 23rd of July,
join us there in our Roundtable on the new Vertical Farming White Paper exclusive insights.
Lessons Learned from COVID-19: Re-engineering the Food Supply Chain in the US and Vertical Farming for Urban Resilience in the Philippines
The Covid-19 pandemic has widely disrupted the fresh-produce supply chain in various parts of the world, resulting in the unsettling juxtaposition of scenes of empty grocery shelves with scenes of fresh produce being dumped at the farm. Covid-19 has emphatically underscored the urgent need to bring the fresh-produce supply chain into the age of the Fourth Industrial Revolution to realize both resilience and sustainability for the supply chain.
The AVF acknowledges that vertical farming in its current state can provide access to fresh, safe, and sufficient food, independent of climate and location. In the decades to come, where overpopulation and severe planetary changes challenge our current way of life, vertical farming will become a necessary solution in global food production.
The Association for Vertical Farming is the leading, global non-profit organisation for raising awareness and connecting all stakeholders to advance the implementation of vertical farming
Grow Better and Stronger by Benefiting from Vertical Farming Crowd Wisdom in the AVF Member Network
Access to industry expertise and education

AVF vertical farming global database
AVF member tours
AVF experts' industry evaluation
AVF white Papers and industry reports

Attract the right people and partners for your organization

Recruiting and career platform
Industry networking among business partners and service providers

Access to Investors and sources of (government) funding

Participate in funding calls (EU and USA)
Engage with investors in the AVF network (being developed)

Meet new customers and access new markets

Join in industry events and trade fairs at discounted rates
Participate in project workshops and hackathons
Stay up to Date with Important Industry Developments
Access to the members only information on the AVF website
Receive the AVF newsletter and blog
Listen to AVF podcasts and project highlights
Scroll down and click on any location on the map to display more details about companies and projects around the world.
Upcoming & recent events at Association for Vertical Farming
July 23, 2020 at 10:00
Virtual
Connecting Technology & Business to Create Healthy, Resilient Food Systems The Indoor AgTech Innovation Summit is going virtual!  This year's summit will be live online on July 23, 2020, providing