While Governments Fail to Deliver, Cities Lead in the Mission to Address the Climate Crisis
Words by Ramin Ebrahimnejad, AVF Head of Education and Science 
There were just a couple of days between the UN summit on climate change and the C40 World Mayors Summit but the disparity in the promises and visions was immense! The third C40 Summit was held in Copenhagen this year with lots of different side events and AVF was present as the organizer of "The Role of Urban Food Systems in a Changing Climate" workshop.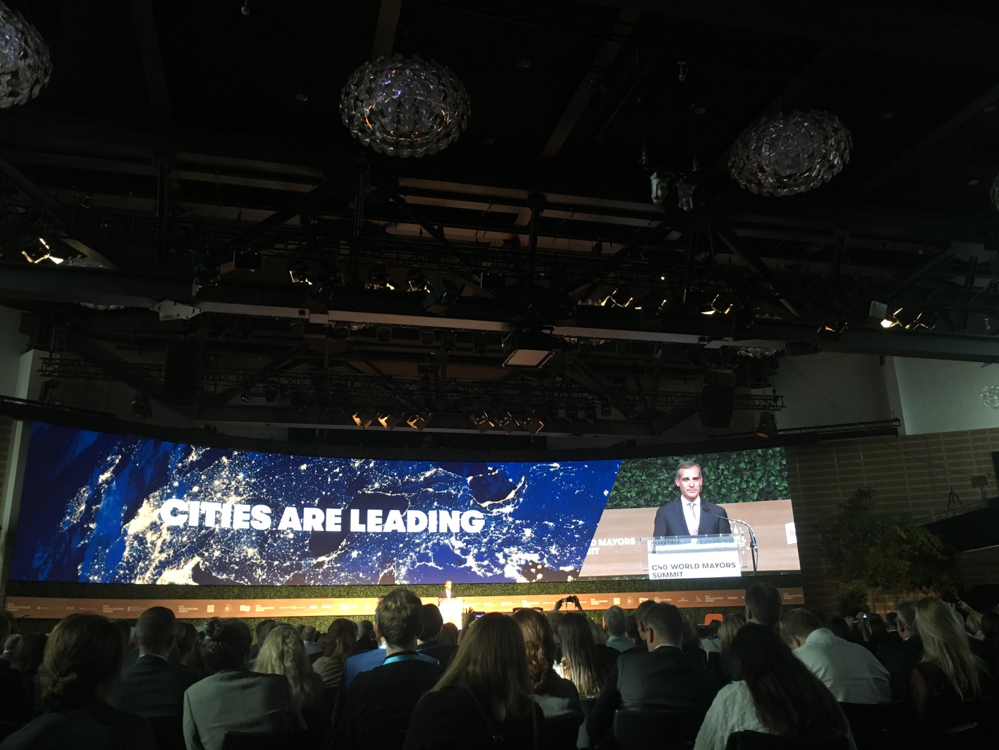 The Future We Want at C40 World Mayors Summit
The main mantra of the summit was "the Future We Want" and featured an esteemed group of speakers like: Al Gore, Michael Bloomberg, António Guterres and Alexandria Ocasio Cortez. C40 already has put out policies revolving around zero-emission mass transit, buildings and waste prevention by 70% before 2030 that many major cities have adopted. Moreover, during this year's summit, plans on air quality and food were also introduced. Mark Watts the executive director of C40 believes these are not just policy proposals- there are signs for businesses to shift towards more sustainable business models; in his speech he also emphasized the importance of consumption of goods and food produced elsewhere coming to the urban areas in calculating a city's footprint.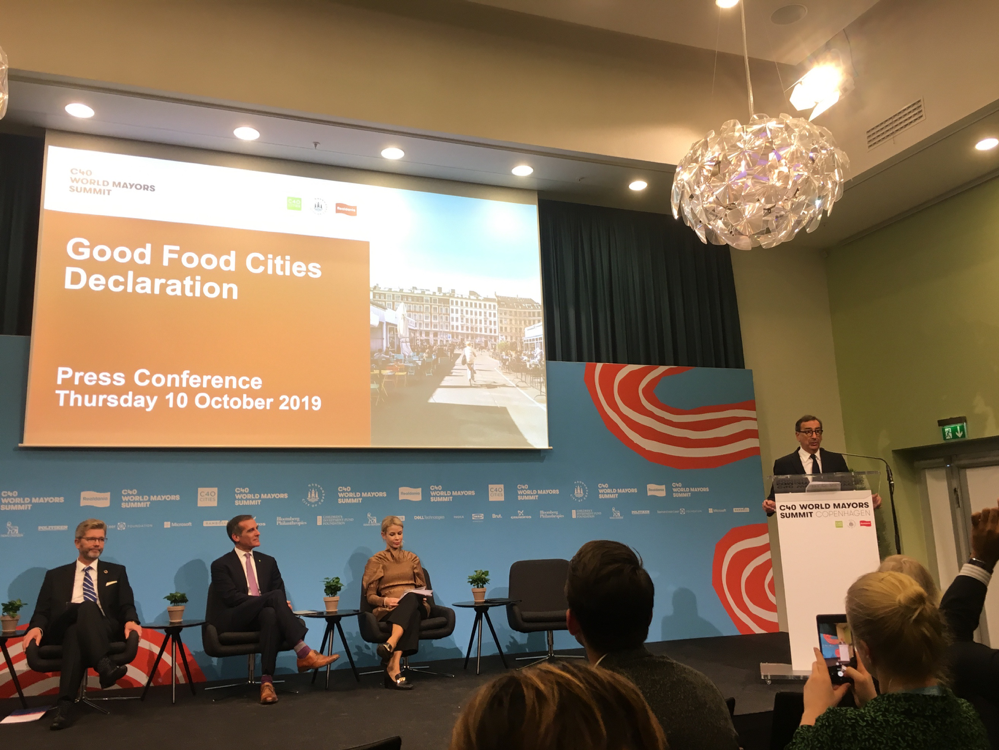 C40 Good Food Cities Declaration
During the press conference for the 'good food cities declaration,' the incoming chair of C40 Eric Garcetti, mayor of Los Angeles, acknowledged that food sustainability was overlooked in most policies and plans and promised this would not be the case in C40.
Under the C40 Good Food Cities Declaration, cities commit to, by 2030:
Align food procurement policies to the Planetary Health Diet ideally sourced from organic agriculture
Support an overall increase of healthy plant-based food consumption in our cities by shifting away from unsustainable, unhealthy diets.
Reduce food loss and waste by 50% from 2015 figures; and
Work with citizens, businesses, public institutions and other organizations to develop a joint strategy for implementing these measures and achieving these goals inclusively and equitably, and incorporating this strategy into the city's Climate Action Plan.
In the closing day of the summit, Alexandria Ocasio-Cortez, U.S. Representative for New York's 14th Congressional District, gave a heartfelt keynote speech and said "I am inspired by this coalition and the commitments made for a global Green New Deal. If we work to join forces globally, we will be able to defeat our greatest threat and realize our greatest opportunity."
Some of the principles of the global green new deal are:
We recognise the global climate emergency
We are committed to keeping global heating below the 1.5°C goal of the Paris Agreement by curbing emissions in the sectors that are the greatest contributors to the climate crisis.
We are committed to putting inclusive climate action at the center of all urban decision-making, to create thriving and equitable communities for everyone. 
We invite our partners – political leaders, CEOs, trade unions, investors, and civil society to join us in recognising the global climate emergency and help us deliver on science-based action to overcome it.
The AVF Workshop on Urban Food Systems
On the second day of the summit, the AVF workshop on Urban Food Systems was held with talks from Kim Rahbek Hansen from Danish FOOD Organization, Philippe Schuler from Too Good to Go app, and Marvin Spence and Ramin Ebrahimnejad from AVF. Different aspects of food systems were discussed. After the talks, we asked our audience to divide into five groups and talk about the roles of businesses, politicians and consumers in fixing our broken food systems.
Here are some of the working groups suggestions:
Politics:
Redirecting subsidies from harmful practices to innovative ones
Legislation on limiting the sale of goods with high footprint from resource use and Carbon output
Hold businesses accountable with instating regulation and enforcing them
Decrease barriers and support local production in cities
Repurpose or retrofit places to produce food e.g. in parks, lawns or parking lots
Educational programs in schools and communities on sustainable food (production, consumption and waste) for the cultural shifts needed in food systems
Regulate waste recycling and phase out waste incineration
Decrease bad choices for consumers by not certifying unsustainable products or labeling based on environmental impact
Introduce Carbon tax and invest the money in climate friendly innovation
Businesses:
Change business models based on environmental sustainability
Disperse the risk of investing in innovation
Integrate CSA or agroecology principles in their modern agricultural practices
Invest in alternative sources of protein
Increase transparency instead of marketing of minimal sustainable shifts 
Consumer:
Exercise political power by electing the right decision makers and demand change
Increase interaction and start conversation in communities on shifts we need in our food system
Food organizations and NGOs should make bridges between businesses and consumers to echo the demands
Supporting food hubs can democratize the food system and eliminate the middle man to have stronger connection between farmer and consumer
Thanks to our speakers and participants who helped to make our session a success and also to C40, the Live Like Tomorrow team and the Municipality of Copenhagen.
Please reach out to us if you would like to share your ideas or collaborate on instigating change in our urban food systems. You can reach me at re@vertical-farming.net