By 2050, there will be 10 billion people on the planet, the majority of whom in cities. Gertjan and Lianne Meeuws behind Eindhoven firm, Seven Steps To Heaven, believe indoor farming is the future. "Our traditional food system is incapable of feeding everyone responsibly."
All of Eindhoven can identify Gertjan and Lianne Meeuws' business from afar, thanks to its distinctive purple glow on the top floor of Strijp-T's former power station with the two tall chimneys. The plant was used by Philips to heat its factories. Now, its top floor is home to the Seven Steps To Heaven indoor farm. Under those purple lights grow salad, rocket and various herbs such as mint, basil and nasturtium. Further on, there are tomatoes and cucumber plants. But the possibilities are endless, says Gertjan. "We can grow anything: even bananas, potatoes and mangoes. You name it, we can grow it." Unlike fields, Seven Steps To Heaven can create the ideal environment. Instead of sunlight, there is LED light in precisely the right colours, combined with the ideal temperatures, wind speed and humidity. Lianne picks a basil leaf. "Have a smell", she says.
Local market
The Meeuws couple has been dedicated to researching how plants grow and thrive for the past thirty years. They began indoor farming in 2005. Their conclusion: traditional farming can never optimise the full potential of crops. "In nature, there's always something: too dry, too wet or too dark", remarks Gertjan. Lianne and Gertjan believe that indoor farming is the future of agricultural farming. Their vision of the future has large indoor farms emerging in the world's major cities over the next few years. Seven Steps To Heaven believes a single vertical farm can feed an entire city. 
Agriculture is leaving the country for the city
What's more, an indoor farm produces for the local market and involves very minimal use of water and no pesticides. "The old food chain will change. One square metre of an indoor farm can supply one person with a year's worth of fresh vegetables, herbs and fruit.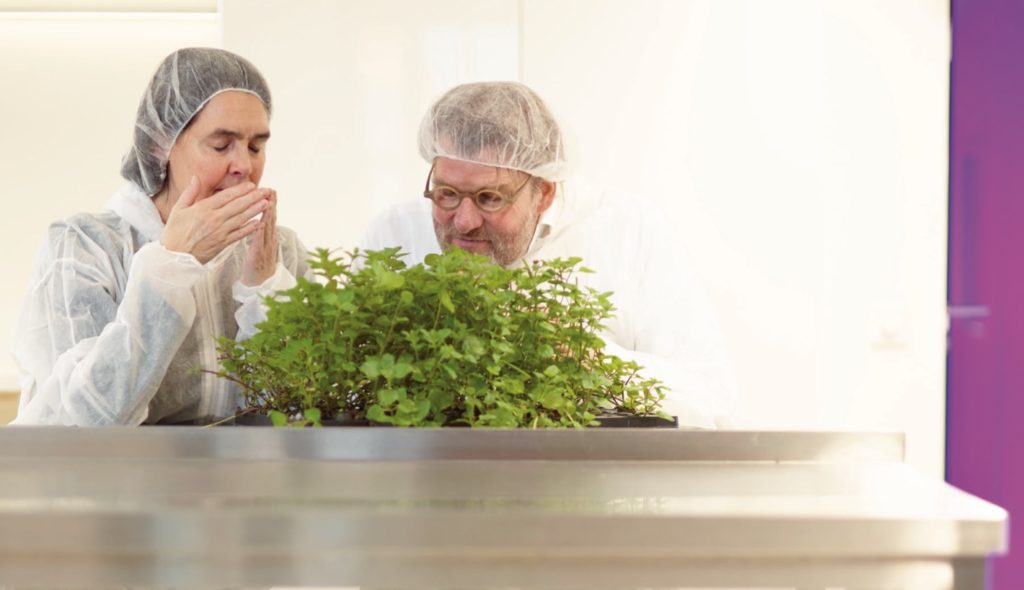 Afforestation
Gertjan Meeuws draws the globe on a blank piece of paper. "We produce food the world over. Then what we do, is ferry all that produce around the globe to deliver it to consumers." The couple terms this farmer-to-consumer chain 'old agriculture'. They are adamant this needs to change. Which is why they are now travelling all over the world. Many African and Asian countries are interesting, but there are also opportunities within Europe. "People need delicious, nutritious and affordable food. To us here in the Netherlands, this is a given. But in many countries, that isn't the case. Just look at Nigeria or Angola, for instance, where vegetables sold at the supermarket are of poor quality yet twice the price of ours here." In 1950, there were 2.5 billion people on the planet. Thanks to technical and medical progress, in 2050, that number will have quadrupled. "As a result, the balance between agriculture and nature is becoming more and more disrupted", says Lianne. "We need to detach agriculture from nature", believes Gertjan. "Agriculture is leaving the country for the city. This will free up millions of hectares for afforestation."
A better food system
Lianne and Gertjan are in talks with partners overseas about building indoor farms and are looking for people who can unlock local markets for Seven Steps To Heaven. The investment in an indoor farm ranges from a couple of million to many millions of euros. A farm capable of supplying 50,000 people with fresh food costs 50 million euros. Gertjan: "In 2020 we will build at least two indoor farms abroad. We are now looking for co-investors to develop further. Preferably Dutch parties who, like us, besides returns, are striving for a better food system."
---
Originally published by Rabo Bank in the spring issue of Rabo & Co
Images: Annabel Oosteweeghel