Ominous weather patterns in Puerto Rico brought droughts in 2015, followed by heavy rains and flooding in 2016.
Such is the fluctuating nature of weather in Puerto Rico, where Francisco Santana has traditionally worked as an engineer. Accompanying food shortages exacerbated the situation in a country that already imports 90% of its food. Francisco began to ask: if this is to be the new norm, how could Puerto Ricans respond as a nation to improve food security? With some cursory research, he stumbled upon an article detailing climate-controlled systems and all the advantages they entail- his interest was piqued.
Soon, Francisco and his wife Arleen began turning theory into practice, growing and experimenting with different light recipes in a makeshift modular farm in Ponce, on the island's south coast. They talked to Philips, and to experts in China; and they went through a lot of trial and error with light recipes. Once the technique was refined, main operations were moved from their modular laboratory into an 1,800 m2 indoor facility; this became the first indoor, vertical farming company in Puerto Rico and the Caribbean: Grupo VESAN.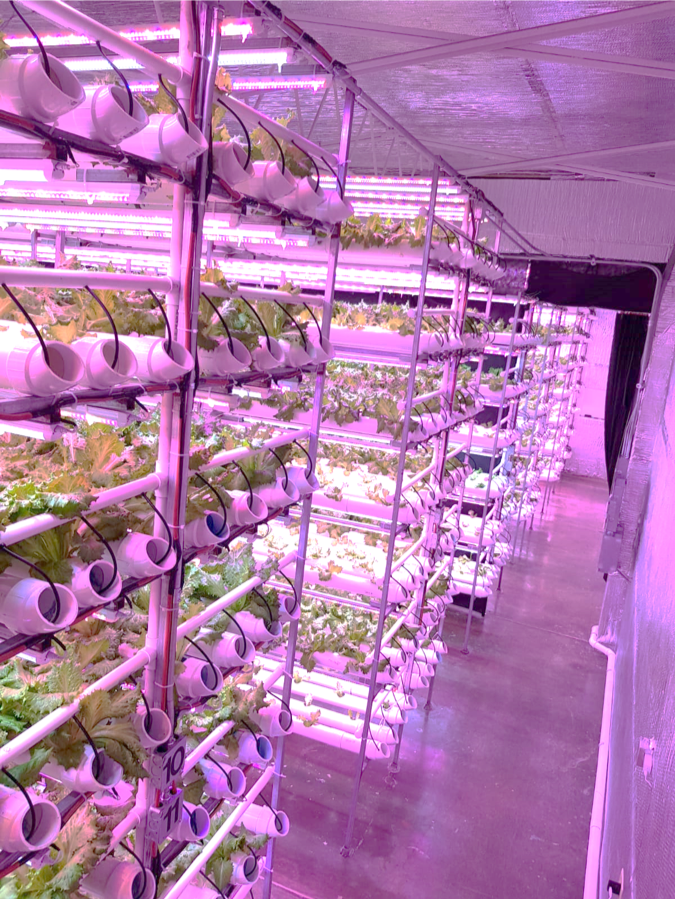 And then came Hurricane Maria.
On the morning of September 20, 2017, Maria- the most powerful hurricane to hit Puerto Rico in 80 years- came ashore. The situation rapidly descended into a humanitarian crisis that commanded the world's attention. Along with restoring power and infrastructure to the island, food distribution became a critical focus point for relief organisations.
As Francisco tells me, the hurricane laid bare Puerto Rico's food security issues. 67% of outdoor hydroponic capacity was lost; the supply chain of open field agriculture was crippled; and many of the island's 3.4 million residents became dependent on food aid. Amidst the devastation, VESAN was operational, delivering food just 10 days after the hurricane struck. This climate-resilient food production system proved itself as a viable method for addressing Puerto Rico's systemic food security issues.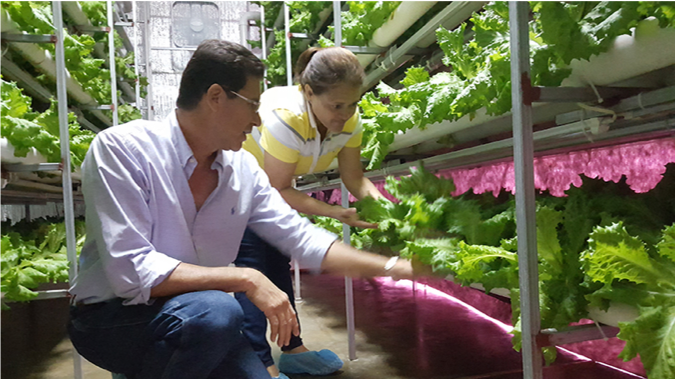 A radical and necessary change from Puerto Rico's traditional food production system
Let's not get ahead of ourselves here: this new-fangled form of agriculture is still a huge leap for what has been a traditional agricultural society. As they explained to us, this is a country that is not so receptive to new innovations or trends in agriculture. Yet the threat to tradition is clear: water rationing is worse today than in 2015. Francisco hopes that this national hardship will push the idea of resource-saving indoor farms further into the collective consciousness.
Other factors are working in Grupo VESAN's favour as well. Being a small, tropical island with high soil salinity and high temperatures (88ºF – 90ºF average), open-field lettuce acquires a soft texture and tends to be bitter; additionally, the leaf is never perfectly green. VESAN controls up to 14 parameters to produce a lettuce that is crisper and fresher tasting than what is normally found in the supermarket. And they are able to deliver a living product with a shelf life double that of traditional, field-grown lettuce.
VESAN's response to Maria, along with the clear benefits of climate-controlled systems, is working to change minds: they enjoy customer loyalty of 95% and their market is growing steadily. From their base in Ponce, they deliver microgreens and lettuce to supermarkets, restaurants, bakeries, hotels and coffee shops three times per week.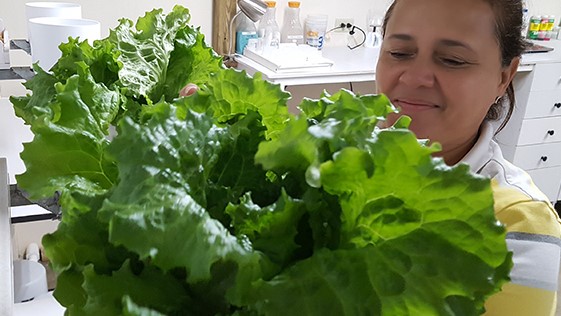 Grupo VESAN's plans to scale business
VESAN is currently the first and only indoor, vertical farm in the Caribbean. At the moment, the farm is semi-automated: timing and lighting is automatic but ph and ppm measurements are taken once daily, and nutrients are prepared manually three times per week. This model is working for VESAN, and Francisco argues that there is no need to rush into further automation.
VESAN has major plans for 2019: they hope to double their farm's capacity with another 1,800m2 plant factory by the end of the year. But before moving on that project, they are planning to integrate one of Puerto Rico's natural advantages: an abundance of sunlight. A proposal is already established to secure government incentives for up to 200 solar panels on site, providing most of the electricity needed for daily operations.
The Caribbean's vertical farming pioneers
VESAN also wants to share their expertise and help uplift the region around them: they currently plan to deliver modular vertical farms to the rest of the Caribbean. These 40-foot shipping containers are built as turnkey vertical farms- easy to deliver and install, and highly productive.
One drawback of this technology is that it can be stigmatised as knowledge-intensive. VESAN works around that by partnering with community organisations and microentrepreneurs to train local people on this new form of food production. They stay as expert advisors for as long as the new operators need to become self-sufficient with their new container farm. Having gained experience working with the Agricultural Department of Puerto Rico, Francisco says they are now in talks for collaboration with the Dominican Republic.
The future of food production in the Caribbean
Grupo VESAN has a plan: to reduce imports, increase local food production and transform agriculture with innovation. Francisco and Arleen hope that this business model will spread through the Caribbean, bringing a new form of sustainable economic development to the region. Yet Francisco's vision is of something even greater: "This is the future of agriculture for this region. We are directly exposed to critical climate changes and our country has to start doing something about food security now." He wants to begin offering talks, seminars and training to spread this message far and wide.
To get in touch with Grupo VESAN, please contact:
Francisco Santana
Visit their website here: https://bit.ly/2ITL8mK
Find them on Facebook here: https://www.facebook.com/Grupo-VESAN-1652364731467997/