The Circle is an agricultural company with a wealth of technological content that created a sustainable and competitive development model to produce top sustainable food without any negative impact on the environment. The farm is now composed on two hectares of land, just outside Rome. with 5000 s/m2 of fully sustainable and productive greenhouses. 
In three years we have become a point of reference in the restaurant market offering extremely high quality products, cultivated in a completely innovative manner. 
We produce top quality food with aquaponics: an agricultural technology that pairs aquaculture and hydroponic farming.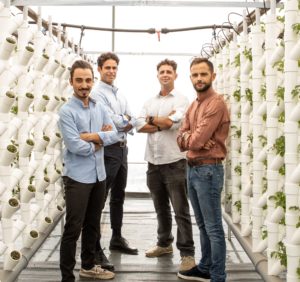 This technology guarantees higher yields and more rapid growth in the plants under cultivation. Water consumption is thus reduced by 90% per kg of product compared to traditional agriculture. Our key numbers for 1 square meter – NFT 
– Production: 600g/mq every 28 days 
– Water safe: 150l/sqm every month in comparison with traditional agriculture – Energy safe using the solar panel
In 2021 The Circle entered in its growing plan Phase 2 accelerating its development to reap the benefits so it can reach an international dimension very soon. Today we are the largest Aquaponic commercial reality in Europe with 5000mq of greenhouses and over 100 restaurants that are supplied with our fresh produce on a regular basis. 
We want to create 1 hectare of additional production to the already operational unit and to create an innovative biomimetic transformation plant for all our processed products. In addition to this we are working on the development of the Franchising Model that will allow us to grow rapidly by making the most of all the work done so far on the brand and on the reference market. Together with AVF it will be possible to enhance the chance of sharing vertical farm bases around the world where both people and the environment can benefit from it. 
The Circle is now looking for new partners and collaborators where our ideal ways to cooperate could be described in few key points, suche as: consulting opportunity, both for project and operational part; Franchising opportunity in the most important cities and country; Realization of Aquaponic Vertical Project around; Lobbying on the vertical production topic; Dissemination Activities. 
We are a company with highly concentrated technology, and we can produce top quality sustainable food. We produce no waste or pollution. We aim to overcome the idea of Organic and 0 impact, and in its place to create a process that brings a Positive Impact.