"It feels good to finally be able to announce the fundraising, especially given the current market trends in vertical farming", says Endre Thesen Harnes, Chief Commercial Officer in Avisomo. "The fundraising allows us to finally move forward on all our plans for 2023, with both international projects and hiring in the pipeline alongside our PoC facility construction."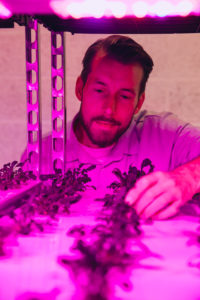 Norwegian startup Avisomo has developed a vertical farming production system that can potentially reduce investment costs of a vertical farming facility by 75% compared to current industry standards while simultaneously reducing operational costs by up to as much as 90% in a fully automated farm.  Having deployed their systems in smaller configurations at fifteen locations around Norway, they just closed a €2M seed round to help them build a fully automated proof of concept facility to prove these numbers. 
Their modular concept uses the food industry standard CC trolleys, where they grow produce fully disconnected from all technology. This allows the Avisomo system to move produce around the facility flexibly and cost-effectively while also making it possible to integrate with already standardized and cost-effective automation machinery.
According to their CCO, Avisomo has «developed a system that allows you to think of a vertical farm as more of a flexible logistics system for plant growing, allowing you to adapt every facility and growth stage to your local conditions». This includes allowing growers to build systems with a level of automation matching their market conditions and local labor cost levels, with a focus on either CapEx or OpEx reduction in the facilities. The system also allows farmers to grow a broad variety of crops in the same facility without having to change any of the system infrastructure, is fully scalable and possible to retrofit into existing building infrastructure.
Among the seed round investors are the founders of the worlds' largest Autostore distributor company Element Logic, who hold an immense amount of knowledge related to utilizing robotics in order to automate warehouse logistics.
The past four months, Avisomo has spent identifying potential international cases for their systems, and according to Harnes, the interest has been substantial. With multiple large-scale leads in their pipeline, they have just finalized their first international agreement for a small-scale facility, being set up in Malta Q1 2023. To finish up, he says that Avisomo "are working relentlessly with our customers to identify the local market entry challenges to ensure that they can set up a healthy and profitable operation from day one. We are certain that a lean and critical market approach will be key to building an economically sustainable vertical farming industry in the long term".
Congrats to the team!